Event Phone: 0863389619
Ultan Conlon
Friday 27th October 2023
Tipperary Launch of new album
"The Starlight Ballroom"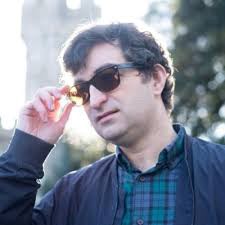 Songs of Love, Heartbreak, Regret….
and Hope !
We are delighted to welcome acclaimed Galwegian singer-songwriter Ultan Conlon to Clonmel, for the Tipperary launch of his fourth studio album The Starlight Ballroom.
The Starlight Ballroom was recorded in L.A, and produced by Grammy Award-Winner David Garza (Fiona Apple)
The formidable group of musicians on the album includes producer and co-writer Garza on numerous instruments, Amy Wood— Drums (Fiona Apple, Iggy Pop, St Vincent) Sebastian Steinberg, Double Bass (Fiona Apple, Iron and Wine, Neil Diamond, KD Lang) Dave Curtis – Strings and Programming (Aj Croce). The Starlight Ballroom is engineered and mixed by John Would (Fiona Apple, Warren Zevon)
For many songwriters there is one occurrence which has such significance in their lives that they will always point to it as the time of transformation or moment of epiphany. For the Galway born singer-songwriter, that shift happened at age 13 when Ultan Conlon's father passed away. Ultan's earliest memories are that of his dad singing along to old standards as they crackled through the car radio. While always drawn to music, until this time Ultan had never felt the need to create his own. A proficient guitarist who'd been taught traditional folk tunes, he had suddenly tapped into his creative well and took to the process with voracity. Says Ultan, "I write as a form of comfort. I know when I start to feel a bit off there is potentially a creative period ahead."
Ultan's unique ability to capture the fragility and sensitivity of the human spirit through his lyrics has been honed over almost two decades of writing and performing. The quality of his songwriting is equally matched by his powerful yet melancholy voice that critics have likened to the great Roy Orbison.
He also toured Ireland and the UK with Eddi Reader, The Sawdoctors and The Stunning.
Ultan has shared the stage with the likes of Jackson Browne, Shelby Lynne, John Fogerty, Mavis Staples, Bryan Ferry, John Grant, Eddi Reader, Patty Griffin and Richard Hawley, among others. Ultan has also performed duets with Glen Hansard and John Martyn, and Martyn recorded Ultan's song "Really Gone" in 2005.  Many of Ultan's lauded songs have received extensive airplay in Ireland (RTE Radio 1, Lyric FM) and the UK (BBC). RTE Radio 1, Marty Whelan (Lyric FM) and Eve Blair (BBC Radio Ulster) all deemed There's a Waltz as their recommended Album of the Week.
His songwriting foray resulted in five acclaimed albums recorded in a span of twelve years. While still based in Galway, Ultan recently found a haven for his unique sound and sensibility in Los Angeles, CA, where he recorded two of his albums
Conlon's poetically-enigmatic "songs of substance told with intelligence and wry observation" (Hot Press Magazine) on There's a Waltz often stem from his own personal experiences, whether he is reflecting on the dark days of his battle with alcohol addiction ("A Long Way Back"), the isolation incurred by the digital universe ("World from A Window"), anxiety concerning the fate of the world  ("A Landslide"), or journeying towards self-acceptance and love (the title track). The Sunday Irish Times raved There's a Waltz is "a record that revels in the beauty of the simple and unspectacular." 
Ultan's "clear, melodic vocal brings Roy Orbison to mind" (Americana UK) and his writer's voice brings forth original songs that combine depths of feeling, introspection and modesty.
In April 2018, Ultan's third studio album 'Last Days of the Night Owl' was chosen 'Album of the Week' on RTE Radio 1 with two singles from the album, 'The Measure' and 'A Weak Heart Like Mine' (duet with Mary Coughlan), each receiving extensive radio airplay.
The first single "The Old Songs", with guest vocalist Eddi Reader, Starlight Ballroom is getting extensive radio airplay
Ultan Conlon onstage 9 pm
Friday


Ultan Conlon onstage at 9pm




27th October 2023




9:00 pm - 11:30 pm
Address:
30-34 Upper Gladstone St
,
Clonmel
,
Tipperary
,
Ireland