Event Phone: 0863389619
Saturday


26th September 2020




8:00 pm - 9:30 pm


- Saturday 26th September. The Henry Girls onstage at 8pm sharp
The Henry Girls (IRE)
– A Socially Distant Show
UPDATE FRIDAY 25TH SEPT
EVENT POSTPONED DUE TO REVISED GOVERNMENT
GUIDELINES ON TRAVEL OUT OF DONEGAL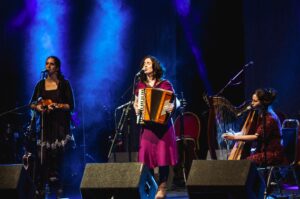 Saturday 26th September 2020
 8pm
White Memorial Theatre, Clonmel
Tickets €31.50 each (including booking fees)
Clonmel World Music is back with another great socially distant show , and are delighted to welcome back The Henry Girls, from Donegal.
The Henry Girls are 3 sisters- Karen, Lorna and Joleen, and between them they play Harp, Accordian, Fiddle, Ukelele, Tin Whistle and  Keyboard ,as well as beautiful harmony singing that only sisters can achieve. 
The Henry Girls  were brought up by music loving parents who introduced them to an eclectic array of sounds such as The Everly Brothers, The Bothy Band, The Beatles, Johnny Cash and Ella Fitzgerald as well being surrounded by traditional Irish music. In their own music, they have a unique rootsy sound which blends their native traditional Irish folk music with hints of americana, bluegrass and blues. They are renowned for their fine close harmonies and musical arrangements, and have been likened to such great musical acts as Crosby, Stills & Nash, The Dixie Chicks and The Be Good Tanyas. They write songs that are tuneful, catchy, and warm. Their repertoire is scattered with old and new and their style reflects many influences and tastes.
They have been playing music together since childhood but decided to go professional in 2010. Since then they have become one of the most talked about folk/roots acts to come out of Ireland, now captivating audiences on worldwide stages having toured in Germany, America, Sweden, Italy, Switzerland, Holland, Austria and the UK. Far Beyond The Stars is their third full length album, and they have also released an EP.
In 2011, they appeared as guest backing vocalists on Mary Black's album 'Stories from the Steeples' and one of the songs they appear on is a duet with the fabulous Imelda May. They have performed at numerous Festivals and the sisters have toured and collaborated on various other music projects, most notably with Mary Black, Imelda May, Clannad, Sharon Shannon, The Hothouse Flowers, Donal Lunny, Altan and Dervish. The Henry Girls are renowned for their captivating, heart-warming and often moving live performances. They have a week long singing and songwriting residency at this year's Earagail Arts Festival in Donegal.
'These sisters have a sensational talent. The quality of their harmony singing goes beyond mere technique. They possess an unerring ability to blend tone and resonance in a seamless fashion.' 
– Eamon Carr, The Evening Herald (IRL) 
'I highly recommend it, every track that I have listened to is a winner' – Alf McCarthy, The Late Date, RTE1
'It's absolutely gorgeous. This album has been on constant repeat on my home system'– Bob Harris, BBC Radio 2 
'Blending Irish and American roots styles with the retro sounds of close harmony groups of the '40s & '50s, The Henry Girls have forged a sound of their own.
– Hot Press Magazine (IRL)
'…beautiful harmonies that are the trademark of this band…This whole album is very high quality and one you MUST HAVE in your collection' – Fanrealm
'The Henry Girls are a force in Folk and Americana music' – The Alternate Root (USA)
The Henry Girls will be onstage at 8pm prompt.
Audience Capacity limited to 40
Show staged in conjunction with The White Memorial Theatre, Clonmel
TICKETS SOLD IN PAIRS ONLY.
There will be a very limited number of solo seats available
– Contact gerry@clonmelworldmusic.com on email for single seat allocation requests
Main Features of the socially distant aspect of the show :
All current Govt/HSE guidelines for indoor events will be strictly adhered to, in relation to indoor shows in Theatres.
We request that you use your own good judgement, health wise, if you wish to attend.
Shows will be fully seated, and socially distanced.
Maximum of 2 people per household/pod. The seats are allocated in pairs
Couples, or same household pods, will be seated together.
Seating will be numbered, and will be allocated on arrival at the show.
You will receive a brief questionnaire asking you to answer a number of COVID-19 related health questions
Arrival times will be staggered to prevent congestion. We would appreciate your co-operation in arriving at your designated time.
All those entering the theatre will be required to wear a mask,  we ask audience members to please arrive at the theatre with your own mask. Members of crew will wear masks
The wearing of masks is mandatory while moving throughout the theatre, and on exit from the theatre.
Masks can be removed, if desired , for the performance, as social distancing will be in place
There is a one-way system in operation on entry or exit to the theatre, signs will guide you on arrival.
Once the event has ended, we ask our audience to respect social distancing as we exit each pod from the theatre.
Should you require toilet facilities during your visit, there will be a member of staff situated to ensure that a limited number of people use the facilities at any one time
We are required to retain your contact details on booking to assist with contact tracing should it be required in future. We can assure you that your information will be protected by GDPR protocols at all times.
Gig will not be held if govt/ HSE restriction/ advice change before the show.
If Clonmel World Music cancels the show, full refunds will be given
No refunds guaranteed if you cancel at short notice. We will try to pass any cancelled tickets onto someone on the waiting list if you can't attend. If we can't pass on the tickets no refund is possible.