Event Phone: 0863389619
Greenshine Friday 22nd November 9pm


22nd November 2019




8:00 pm - 10:30 pm


- Greenshine onstage at 9pm
Clonmel Story Slam 23rd November 5pm


23rd November 2019




5:00 pm - 6:00 pm

Eamonn O'Malley & Neil McGrath Saturday 23rd November 7pm


23rd November 2019




7:00 pm - 8:00 pm


- Eamonn O'Malley onstage at 7pm
Donal Clancy'S Folk 'n Blues Revue Saturday 23rd November 9pm


23rd November 2019




9:00 pm - 10:30 pm


- Donal Clancy onstage at 9pm
Backroom Poets Sunday 24th November 3pm


24th November 2019




3:00 pm - 4:00 pm

Alan Acheson & Ross Boland Sunday 24th November 5pm


24th November 2019




5:00 pm - 6:00 pm

Electric Orfeo Sunday 24th November 7pm


24th November 2019




7:00 pm - 8:00 pm

Jimmy Smyth's Organised Sunday 24th November 9pm


24th November 2019




9:00 pm - 11:00 pm


- Jimmy Smyth's Organised onstage at 9pm
SuirFest '19
Friday 22nd/ Saturday 23rd / Sunday 24th November 2019

Live at Jerry Moynihans,
Upper Gladstone St Clonmel
Clonmel World Music is delighted to present a unique 3 day Winter Festival in Clonmel, in which the aim is lift the spirits of Clonmel people in the depths of winter ! .
There are 8 shows in total over the weekend, and the shows are a mixture of Folk, Roots, Rock Blues, Jazz and spoken word.
The headline shows each night are national acts, and all other shows are selected local acts.
All shows take place in the cosy back room in Jerry Moynihans Pub Clonmel. The shows are all seated and run as music listening shows.
Greenshine
Friday 22nd November 9pm.
Doors at 8pm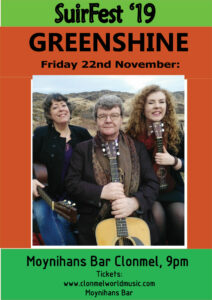 Greenshine is a family trio comprising Noel Shine, Mary Greene and their daughter Ellie. Their material straddles the boundaries of contemporary, folk and roots and includes many self-penned songs. Their fast picking and close harmonies are a treat to the ear. Noel is a multi-instrumentalist, turning his hand to guitar, bass, mandolin, banjo, bouzouki and traditional whistle. Mary brings rhythm guitar to the mix and her voice is a wonderfully versatile instrument. Ellie Shine grew up surrounded by music and has been performing in concerts and festivals since the age of 13. She accompanies herself on the ukulele.
They got great national coverage in 2016 with their song "Girl in the Lavender Dress" The single went on to be the most played track on RTE Radio 1 for a month of Summer and 3rd most played Irish track for the year. It reached No. 1 in the iTunes Ireland Singer Songwriter Charts.
Greenshine will be onstage in Moynihans at 9pm
Clonmel Story Slam
Saturday 23rd November 5pm.
This will be  the debut Clonmel performance of a local Story Slam collective, which is specially commissioned for SuirFest.
This show has been put together by local school caretaker, sheep farmer, storyteller and poet Joe Whelan ! The shows format is to get seven local storytellers to each tell a true story against the clock ! This will be fun !
Eamonn O'Malley & Neil McGrath
Saturday 23rd November 7pm.
Local musicians Eamonn O'Malley and singer Neil McGrath previously performed together for many years, and are reforming the duo especially for SuirFest.
Eamonn is a great contributor to the local music and arts scene, and has been very busy recently with his Laptop Ensemble. Belle Voci choir and Uproar Rock Chorus projects.
Donal Clancy's Folk n' Blues Revue
Saturday 23rd November 9pm.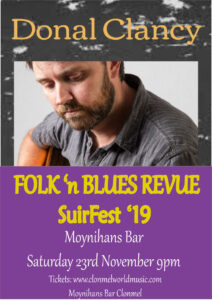 The headline act on Saturday is the great Donal Clancy, who is performing  a specially commissioned show for Suirfest.
The show is called "Donal Clancy's Folk 'n Blues Revue" , and it will comprise of Classic Blues songs, and cool Bluesy arrangements of well known songs !
Donal Clancy is one of Irelands greatest ballad/folk singers, he played a sell out show in Hotel Minella Clonmel , with Rory Makem, in April of this year. Donal is the son of Liam Clancy, from the world famous Clancy brothers and he is proudly carrying on the family tradition of story telling and ballad singing of the highest order. Dónal grew up in a household and community steeped in music. He spent his early childhood in Canada and the US before his family settled back in An Rinn, Co. Waterford in 1983. Liam Clancy gave him his first guitar at the age of eight and he was playing professionally by his early teens. Donal was a member of Trad group Danu for many years, and he has toured and recorded with Riverdance fiddler, Eileen Ivers. He was a guest with The Chieftains on their Tears of Stone Tours in Japan and the US. Dónal Clancy, in his own right, is regarded as one of Ireland's finest guitarists and ballad singers. Donal has, since the death of his father, focused his attention on the family repertoire of songs that he grew up with. He is bringing the tradition to audiences all over the world.
Donal will be on stage in Moynihans at 9pm.
Backroom Poets (Clonmel)
Sunday 24th November 3pm.
Sunday starts at 3pm with local poetry ensemble, The Backroom Poets. This is a mixture of well known, and not so well known (yet) poets who will do readings of their own poetry. Some of these featured recently on Culture night in Clonmel.
Alan Acheson & Ross Boland
Sunday 24th November 5pm.
Sunday continues at 5pm with young local musicians and songwriters Alan Acheson and Ross Boland. Alan and Ross are mainstays of the local music scene and have performed in many local bands and at many local events over the years.
Electric Orfeo
Sunday 24th November 7pm.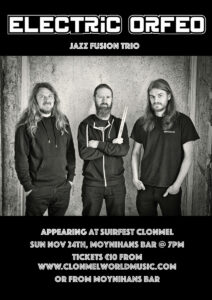 Sunday's shows continue at 7pm with great local Jazz Fusion trio Electric Orfeo, who made their debut at this years Clonmel Junction Arts Festival. Electric Orfeo are an amalgam of influences, incorporating jazz, funk, metal ,rock, and gypsy swing !. Combining Sam Barkers's post pop , funk jazz guitar excursions with Stephen McGrath's fretboard traversing effects driven bass playing & Gev Barrett's laid back multilingual grooves. Electric Orfeo aim to bring you from the Centre of jazz to yet unexplored improvisational musical horizons. A show not to be missed.
Jimmy Smyth's Organised
Sunday 24th November 9pm.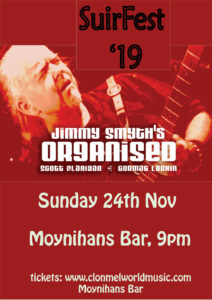 The headline act on Sunday night is a very special Jazz trio – Jimmy Smyth's Organised. Jimmy will be joined by Scott Flanigan and Cormac Larkin. They will be making their Clonmel debut, these lads normally don't stray too far from Dublin !
Jimmy Smyth is regarded as one of Ireland's finest guitarists, a Grammy-nominated musician and song-writer who is happy in a variety of settings from rock and blues to jazz and country. Born in Navan, Jimmy began playing guitar when he was seven years old, and at one stage Jimmy was asked to join Thin Lizzy as a replacement for guitarist Brian Robertson. Although flattered, he declined, as he was just about to release an album with his band The Bogey Boys. Jimmy was also called Irelands greatest guitarist by none other than Rory Gallagher !
He's also recorded and played with Roger Daltrey, Curtis Stigers, Chaka Khan, Lisa Stansfield, Van Morrison and Reba McEntire.
Hailing from Belfast in Northern Ireland, Scott Flanigan is one of the foremost keyboard players on the Irish jazz scene. Scott has shared a stage with the likes of Van Morrison and the Ulster Orchestra, along with jazz heavyweights Jim Mullen, Jean Toussaint, Rob Luft and Dave O'Higgins.
Originally from Belfast, drummer and band leader Cormac Larkin has been a key figure on the Irish jazz scene since the 1990s. He was a founder of the Dublin Jazz Collective, and co-founder of the Improvised Music Company, Ireland's leading promoters of jazz. Over the years, Cormac's critically acclaimed bands have featured some of the leading players in Irish jazz, including Tommy Halferty, Phil Ware and Michael Buckley. Cormac is perhaps best known as Ireland's leading jazz critic, writing for In Dublin, the Sunday Tribune, and currently the Irish Times.
Jimmy Smyth's Organised take to the stage in Moynihans at 9pm
Address:
30-34 Upper Gladstone St
,
Clonmel
,
Tipperary
,
Ireland