Event Phone: 0863389619
Friday


18th January 2019




8:00 pm - 10:00 pm


- Band Onstage 9pm
Special Consensus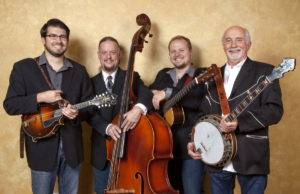 GREG CAHILL plays banjo and
sings baritone and tenor harmony vocals.
RICK FARIS plays guitar and
sings lead, baritone, tenor and high baritone vocals
DAN EUBANKS plays bass and
sings lead, baritone and bass vocals
NICK DUMAS plays mandolin
and sings lead, baritone and tenor
For the first show of 2019, we are delighted to host this great Bluegrass Band, who have just been nominated for a Grammy  for their latest album. They also recently won two awards at the International Bluegrass Music Awards
Over the past 40+ years, the members of USA Bluegrass outfit Special Consensus have served as evangelists for the genre, bringing their own spin on Mid-Western Bluegrass to audiences around the globe.
Formed in the Chicago area in 1975, Special Consensus is a four-person acoustic bluegrass band with a repertoire that features traditional bluegrass standards, original compositions by band members and professional songwriters, and songs from other musical genres performed in the bluegrass format. The band has released 19 recordings and has appeared on numerous National Public Radio programs and cable television shows, including The Nashville Network and the Grand Ole Opry at the historic Ryman Auditorium in Nashville, Tennessee. International tours have brought the band to Australia, Canada, Europe, South America, Ireland and the United Kingdom. Special C has appeared in concert with many symphony orchestras nationwide and has brought an informative in-school presentation to schools nationally and internationally since 1984. Band leader/banjo player Greg Cahill is the former President/Board Chair of the Nashville-based International Bluegrass Music Association (IBMA), the former Board Chair of the Nashville-based Foundation for Bluegrass Music and a recipient of the prestigious IBMA Distinguished Achievement Award (in 2011). Other band members include guitar player Rick Faris, bass player Dan Eubanks and mandolin player Nick Dumas. The 2012 Compass Records band release Scratch Gravel Road was GRAMMY nominated for Best Bluegrass Album and two songs from the 2014 Compass Records band release Country Boy: A Bluegrass Tribute To John Denver received IBMA awards for Recorded Event of the Year and Instrumental Recorded Performance of the Year. The 2016 Compass Records band recording Long I Ride received the IBMA Instrumental Recorded Performance of the Year award and the 2018 Compass Records band release Rivers And Roads garnered two more IBMA awards for Instrumental Recorded Performance of the Year and Album of the Year.
"Yes, Special Consensus may be Chicago's very own veteran bluegrass band, but talent like this is the property of the world."
— David Royko; Chicago Tribune
Doors 8 pm.
Special Consensus  onstage 9.00 pm sharp
Address:
10 Raheen Rd
, Raheen,
Clonmel
,
Tipperary
,
Ireland