We're sorry, but all tickets sales have ended because the event is expired.
Event Phone: (086)3389619
Makem & Clancy
Live in Concert
World Exclusive Show !
2 Solo sets, and a Makem & Clancy set..
Intimate Show, Limited Capacity
Raheen House Hotel. Clonmel
Thursday 07th April 2022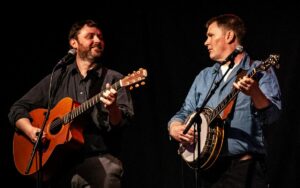 Tickets On Sale Now:
Online only sales, on this website.
Please note refunds can only be made if the show is Sold Out and we can sell on tickets to a waiting list.
We cannot refund tickets if you are unable to attend due to a positive Covid test
Rory Makem & Donal Clancy played two sold out shows  in Ireland in April 2019. Both shows, in Clonmel Co Tipperary and Keady Co Armagh played to full houses, to rave reviews. Following on from the success of these shows they were invited to play 2 shows in Northern Ireland in August , at the Black Box Belfast and at a Festival in Derry
They are back for an extensive Irish tour in 2022 
Rory Makem and Donal Clancy carry on the musical legacy, stories and songs of their legendary fathers, Tommy Makem and Liam Clancy.
Rory Makem and Donal Clancy – the sons of, respectively, Tommy Makem and Liam Clancy – are justifiably proud of their families' storied place in Irish music, and both had the opportunity to perform with their famous fathers over the years. Donal & Rory have also forged their own musical paths.
Dónal Clancy is an acclaimed guitarist, singer and performer. Dónal grew up in a household and community steeped in music. He spent his early childhood in Canada and the US before his family settled back in An Rinn, Co.Waterford in 1983. His father gave him his first guitar at the age of eight and he was playing professionally by his early teens. After returning from a residency at Delaney's Irish Pub in Hong Kong in the mid-nineties, he co-founded the group Danú but left soon after to join a trio with his father, Liam, and cousin, Robbie O'Connell. Their debut tour in 1996 took them across the US, from the Santa Anita Race Track in Los Angeles to Lincoln Center in NY City. They continued to tour together for a couple of more years and recorded two albums before they disbanded in the late nineties.
A seasoned performer with over 25 years on the road, Rory Makem has toured extensively with The Makem and Spain Brothers and for 17 years toured and played guitar with his father, the legendary Tommy Makem. He has entertained countless sold-out venues, festivals, and theaters throughout the United States, Canada, England, Scotland and Ireland. At his best on stage, Rory captivates audiences with his skilled musicianship, his charisma and passion for the songs, his extensive knowledge of poetry and history, and his humor.
and so… the tradition continues.
Throughout their individual pursuits, the latter-day Makem and Clancy have always sung the praises – literally – of their forebears, and in 2016 finally joined forces as a duo to carry on the legacies of The Clancy Brothers and the original Makem and Clancy, where they belted out classics like "Brennan on the Moor," "Whistling Gypsy Rover," "Wild Mountain Thyme" and many more, and shared plenty of stories and reminiscences with an appreciative, enthusiastic audience that happily sang along on practically every song.
"They delivered a couple of hours of pure magic and while their fathers may have provided the programme, these two entertainers, new to the Irish scene, placed their own seal firmly on their performance." – Tom Keith, Dungarvan Observer Review – April 2019

"This was the duo's first full concert in Ireland, but decidedly, not their last. They gave entertainment in full measure, knew what their audience liked and expected and delivered in full measure. In years to come, the audience will look back with pleasure on this little bit of history and recall seeing and hearing this duo sing and play the kind of songs and music they came for". – Tom Keith, Dungarvan Observer Review – April 2019
"Having seen Liam Clancy and Tommy Makem back in the 1980s at the Cork Opera house, tonight was a pure nostalgia trip for me, and judging by the audience's reaction I was not alone, and the crowd joined in the rousing choruses" – Sean Laffey, Irish Music Magazine Review – August 2019

"The evening ended all too soon with the timeless show stopper The Wild Mountain Thyme, it was followed by 500 people on their feet clapping in appreciation and gratitude for one of the best gigs that has been seen in south Tipperary in a decade or two". – Sean Laffey, Irish Music Magazine Review – August 2019
"The interview with Rory Makem and Donal Clancy on Tipp Today generated more listener reaction than any other music interview this year. The remarkable resemblance of voice and instrument to the original M and C was uncanny. The feedback from the gig was just incredible. As a huge Makem and Clancy fan I am thrilled that I can relive the wonderful music and performance from the sons of legends Tommy and Liam." – Fran Curry, Tipp Today Show, Tipp FM
"The heritage of Tommy Makem & Liam Clancy is safe in the hands of Rory Makem & Donal Clancy. An ounce of breeding beats a ton of feeding !"  – Noel Fahy, Radio presenter, Tipp Mid- West FM
"The thing is with Makem and Clancy, they just sang the songs they liked; it didn't matter where they came from. It's much the same for us . You had these four lads from small-town Ireland who did something that was new and exciting without realizing it. They were doing something they loved in the way they felt it should be done.
And it's amazing that our fathers, who were such kindred spirits, with the same interests, same ambitions, same backgrounds in many ways, happened to meet – really seems like it was just meant to be. – Donal Clancy

"My formative years, I guess you'd call them, were at the height of Makem and Clancy. We'd always go to their shows, and I just loved it.
And then my father and the three Clancys had a reunion. The first concert was at Lincoln Center, and we were right in the front row, and then the four of them came bounding out on stage, and I'd never seen anything like it – the audience was electric, they went crazy. That's when I realized, "Wow, this isn't what my friends' parents do for a living." – Rory Makem
Doors 7.30 pm.
Show at 8.30 sharp
Act 1 : Rory Makem Solo Set
Act 2: Donal Clancy Solo Set
Interval
Act 3: Makem & Clancy
Thursday


Doors at 7.30pm. Show at 8.30 pm;




7th April 2022




7:30 pm - 10:30 pm
Address:
10 Raheen Rd
, Raheen,
Clonmel
,
Tipperary
,
Ireland