Event Phone: 0863389619
Saturday


13th April 2019




8:00 pm - 10:00 pm


- Doors at 8pm Support Act onstage at 8.30 pm; Makem & Clancy onstage at 9pm sharp
Makem & Clancy
– The Next Generation Tour
Special Guests: Donnchadh Gough (Danu-bodhran) and Brendan Clancy (fiddle).
Support: Cian Smith (Uileann Pipes); Brid Mc Maugh (Fiddle) and Emma Corbett (melodeon)
Tickets On Sale Now:
Online, on this website.
Hotel Minella Clonmel: Reception
Marians Bookshop, O'Connell St Clonmel
South Tipperary Arts Centre, Nelson Street, Clonmel.
The Local Bar, The Square, Dungarvan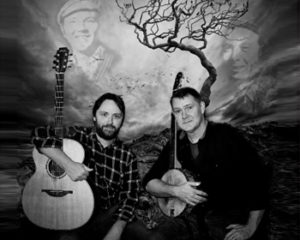 Clomel World Music is delighted to host this very special show, one of only two Makem & Clancy shows in Ireland in 2019.
Rory Makem and Donal Clancy carry on the musical legacy, stories and songs of their legendary fathers, Tommy Makem and Liam Clancy.
Clonmel, and Hotel Minella, have historical resonances with Tommy Makem, Liam Clancy and the Clancy brothers. It is only 13 miles from Carrick On Suir, homeplace of the Clancy's. Liam Clancy played in the same concert room in Hotel Minella on 04th July 2006, when he did a short Irish tour with american folk star Odetta. The Clancy's filmed their last performance in The Regal Theatre Clonmel in 1995, and Tommy Makem and Liam Clancy also performed in Ferryhouse Clonmel on one of their tours. Both these venues are only across the river from Hotel Minella.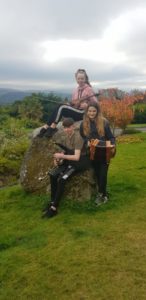 Rory & Donal will be joined by special guests on the night: Donnchadh Gough (Danu-bodhran) and Brendan Clancy (fiddle). The support Act for this special show will be multi-All Ireland winning young traditional musicians: Cian Smith (Uileann Pipes); Brid Mc Maugh (Fiddle) and Emma Corbett (melodeon) who carry on the unique County Waterford flavour of the night
Rory Makem and Donal Clancy – the sons of, respectively, Tommy Makem and Liam Clancy – are justifiably proud of their families' storied place in Irish music, and both had the opportunity to perform with their famous fathers over the years. Donal & Rory have also forged their own musical paths. Dónal Clancy is an acclaimed guitarist, singer and performer. Dónal grew up in a household and community steeped in music. He spent his early childhood in Canada and the US before his family settled back in An Rinn, Co.Waterford in 1983. His father gave him his first guitar at the age of eight and he was playing professionally by his early teens. After returning from a residency at Delaney's Irish Pub in Hong Kong in the mid-nineties, he co-founded the group Danú but left soon after to join a trio with his father, Liam, and cousin, Robbie O'Connell. Their debut tour in 1996 took them across the US, from the Santa Anita Race Track in Los Angeles to Lincoln Center in NY City. They continued to tour together for a couple of more years and recorded two albums before they disbanded in the late nineties.
In 1998, Dónal moved to New York where he became the go-to guitarist for many of the top Irish music acts. He contributed to albums and tours with Riverdance fiddler, Eileen Ivers, and was guest guitarist with The Chieftains on their Tears of Stone Tour in Japan and the US in 1999. From 2000 – 2002 he was a member of the Irish-American super-group Solas and in 2003 he re-joined the group Danú who would go on to become one of the most successful Irish bands today. He also contributed to the soundtrack of Ric Burns award winning documentary film New York and in 2006 released his debut solo guitar album Close To Home which The Boston Globe dubbed "a sweet masterpiece of melodic grace and riveting groove".
In 2009, Dónal returned to live in Ireland with his wife, Mary and their three children. After the death of his father (the last remaining member of The Clancy Brothers and Tommy Makem) he began to focus his attention on the family repertoire of songs that he grew up with, while keeping the Clancy tradition alive with his solo performances.
A seasoned performer with over 25 years on the road, Rory Makem has toured extensively with The Makem and Spain Brothers and for 17 years toured and played guitar with his father, the legendary Tommy Makem. He has entertained countless sold-out venues, festivals, and theaters throughout the United States, Canada, England, Scotland and Ireland. At his best on stage, Rory captivates audiences with his skilled musicianship, his charisma and passion for the songs, his extensive knowledge of poetry and history, and his humor.
The love of song runs deep in the family. Continuing a legacy handed down from his grandmother, the seminal source singer Sarah Makem, Rory pulls the songs of the sailors, the laborers, the lovers, the fighters and the land from the pages of history and breathes life into them. An adept interpreter of folk songs, he masterfully accompanies himself on guitar, banjo, mandolin or bouzouki.
Not limiting himself to the stage, Rory has performed on movie soundtracks including A Fool and His Money, and The Lightkeeper. His compositions can be heard woven into the backdrop for PBS series as diverse as Tommy Tang's Modern Thai Cuisine to It's an Age Thing, to Simply Painting.
Learning from those who came before you is the essence of folk music — and Rory has the great honor of learning from the best. Of course there were the many years at his father's side… absorbing a master at his craft. He has also recorded with luminaries of modern folk music: Tom Paxton, Noel Paul Stookey, Bill Staines, Eric Weissberg, Roger McGuinn, Dave Mallett, Gordon Bok, Jonathan Edwards, Rick and Ron Shaw, and Schooner Fare.
Through more than a quarter century of plying his craft, Rory has established himself as one of the leading forces in the song tradition of Irish music… aspiring to not only carry the torch of the past/the greats that came before him, but also dedicated to promoting the craft of the modern folk era and contributing to/inspiring the next generation of music lovers.
and so… the tradition continues.
But throughout their individual pursuits, the latter-day Makem and Clancy have always sung the praises – literally – of their forebears, and in 2016 finally joined forces as a duo to carry on the legacies of The Clancy Brothers and the original Makem and Clancy, where they belted out classics like "Brennan on the Moor," "Whistling Gypsy Rover," "Wild Mountain Thyme" and many more, and shared plenty of stories and reminiscences with an appreciative, enthusiastic audience that happily sang along on practically every song.
Rory Makem: "In early 2016, we got a call from Joanie Madden [vocalist and flutist for Cherish the Ladies], who wanted both of us for her annual cruise in February of this year. We'd thought about playing together for years, because of our love of song, and our culture, the tradition in our families, and the history of our families together, so we agreed. And besides it's hard to say "no" to Joanie.
That summer, I was heading back to the Midwest from a festival, and Donal was at the Milwaukee Irish Fest and he said, "Why don't you come play with me?" So we got up and did "Whistling Gypsy Rover" and a couple of other songs that our fathers used to sing, and it felt really, really good.
I was in Ireland that autumn, and Donal and I ran through a whole list of songs, and thought it would be fine. And then [Burren co-owner] Tommy McCarthy called us to do his annual benefit concert at the National Concert Hall in Dublin in January. So that was our first actual gig. By the time we went on Joanie's cruise we'd already done those two appearances."
"The thing is with Makem and Clancy, they just sang the songs they liked; it didn't matter where they came from. It's much the same for us . You had these four lads from small-town Ireland who did something that was new and exciting without realizing it. They were doing something they loved in the way they felt it should be done.
And it's amazing that our fathers, who were such kindred spirits, with the same interests, same ambitions, same backgrounds in many ways, happened to meet – really seems like it was just meant to be. – Donal Clancy

"My formative years, I guess you'd call them, were at the height of Makem and Clancy. We'd always go to their shows, and I just loved it.
And then my father and the three Clancys had a reunion. The first concert was at Lincoln Center, and we were right in the front row, and then the four of them came bounding out on stage, and I'd never seen anything like it – the audience was electric, they went crazy. That's when I realized, "Wow, this isn't what my friends' parents do for a living." – Rory Makem

"Dónal Clancy has bravely taken up the mantle of his illustrious forbears, particularly of his father, Liam Clancy, and performs with the same emotion, intensity, care, subtle nuance and effortless mastery. He builds a warm, sympathetic rapport with his audience, explaining, just as Liam used to do, the story behind, the origin, and his own personal connection and affectionate link with each song he performs. He has an easy way with the audience like Liam had, a grace and charm in his introductions, wonderful diction and above all, the greatest praise for a singer in my belief, his feeling for the songs is nothing short of spine-tingling". -Joe Power (Na Conneries Singing Club, Dungarvan)
Doors 8 pm.
Support onstage at 8.30
Makem & Clancy onstage 9.00 pm sharp
Venue Phone: 052 6122388
Venue Website: https://hotelminella.com/
Address:
Coleville Road
, Clonmel,
Clonmel
,
Tipperary
,
E91 FY97
,
Ireland