Event Phone: 0863389619
Thursday


12th September 2019




7:00 pm - 10:00 pm


- Doors at 7pm, band onstage at 8pm
Leroy Troy & His Hillbilly Trio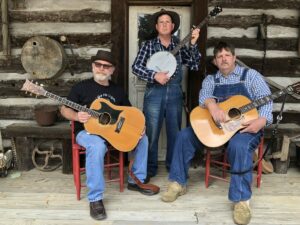 Leroy Troy (Vocals and Banjo)
Mike Armistead (Vocals & Guitar)
George Harpur (Guitar, Bass and Vocals)
Clonmel World Music is back on Thursday 12th September in Raheen House Hotel, with 2 great bands. They are delighted to welcome back, from Nashville, Leroy Troy & his Hillbilly Trio. These musicians are all part of The Tennessee Mafia Jug Band (TMJB), who played in Clonmel in 2016. That gig in 2016 was fully Sold Out, and Clonmel World Music expect demand to be high for this return visit.
The band are on a 11-gig nationwide tour kicks off in Wicklow on September 5th before embarking on a loop through some familiar, hillbilly-friendly venues – including a return to Longford Town, setting, of course, for the much-missed Johnny Keenan Banjo Festival (Leroy was on the bill of the last festival to be staged in Longford in 2011). Bolstered by bevy of new material recorded just for the tour (listen up for the track "The Best Cooks I've Ever Seen"), this is a trio who are looking forward to both reconnecting with their friends from past visits and to making friends anew.
Leroy & The Hillbilly Trio trio are from Goodlettsville which is a farming town north of Nashville, Tennessee, home of the great Bill Monroe. They are a three piece band that will brighten up the stage with rib-tickling Old-Time tunes and great banter.
These boys not only know their music, they also wear the dungarees and tell corny jokes ! Leroy Troy & his Hillbilly Trio prides itself on hot picking, powerful harmony singing and riotous hijinks.
The Tennessee Mafia Jug Band have appeared at the famous Ryman Auditorium, at New York's Carnegie Hall, at Washington, D.C.'s Kennedy Center, at the famous Station Inn Nashville and at numerous other venues in the US and Europe, playing boisterous songs like "Too Old to Cut the Mustard," "What a Waste of Good Corn Liquor" and "Slide Them Jugs Down the Mountain." They have also played on many occasions at The Grand Ole Opry as special guests of Marty Stuart, who is a big fan.
In addition to appearing regularly on Marty Stuart's TV show, the band received the Trailblazer award at Uncle Dave Macon Days Festival. The award is given to artists for their contributions to old time music and for the preservation of traditional music.
This band has serious musical pedigree, and the band members on this tour are:
Leroy Troy: Known variously as "The Sultan of Goodlettsville", "the Most Popular Man in Country Music", or "the ol' Tennessee Slicker " Leroy Troy sings and plays banjo, ukulele and a contrivance he calls "the washing machine".This is basically a washboard with all sorts of percussion items fixed onto it. The last time the TMJB were in town, Leroy added some items to the washboard from Bob Fitzgeralds hardware shop! Since the Knoxville World's Fair in 1982, Leroy has been a professional hillbilly musician. He learned his trade working with the Bailes Brothers (long ago members of the Grand Ol' Opry). Leroy is practically the house musician on the Marty Stuart Show on RFD cable TV, appearing as a guest on almost every show. Leroy now has a bona fide hillbilly commune in the hills and hollers of Goodlettsville.
Mike Armistead: Mike sings lead and High tenor, and plays guitar. Mike is also a Nashville Firefighter ! Mike's father Lester founded the TMJB, and Mike is following in his (big) footsteps.
George Harpur: Being from Nashville, and growing up in a musical family, his exposure to music has been imminent and diversified. From horn bands to bluegrass, mix a lot of rock & roll, and throw in a little blues. Oh, and let's not forget the country music influence.Throw it all together, and you get a melting pot of different styles. If you come to two shows on consecutive nights, you might just hear the same song played bluegrass one night, and bluesy the next. George was as an opening act for Rodney Crowell at The Johnny Keenan Banjo Festival in Longford.. After his European debut, he was signed to come back and perform again the following year.
With 'roots like wisdom teeth', these boys do entertainment in the old-time mould like no other overall-clad outfit can. Brought to national prominence thanks to regular performances on Marty Stuart's RFD-TV show, these polished entertainers have toured extensively, both nationally and internationally, and have graced the stage of the Grand Ole Opry, Washington, D.C.'s Kennedy Center, and Nashville's Station Inn & Ryman Auditorium. And they are no strangers to Ireland either, with visits stretching back to the days of the much-missed Johnny Keenan Banjo Festival in Longford – their first visit to Ireland to perform collectively as The Jug Band was for the 2006 festival (Leroy & George were back again in 2009; Leroy was last here as a solo artist in 2011; George was here with his own band in both 2010 & 2012; & the Jug Band last entertained here to mostly sell-out crowds in late 2016). Recipients of the 2017 Blue Blaze Award at the 46th annual Smithville Fiddler's Jamboree & Crafts Festival, given to musicians who actively cultivate a love of bluegrass music, this is a gallimaufry of accomplished musicians who just like to have fun as they brighten up the stage with an array of rib-tickling old-time tunes and a smattering of string acrobatics and general tomfoolery.
The band's relationship with Marty Stuart goes back many years. "Lesters Loafin' Lounge" was where Stuart recorded what could be considered the pilot for his very popular show on RFD-TV. The guests on that first show included the Sullivan's, The Tennessee Mafia Jug Band, and Old Crow Medicine Show. Since then, the TMJB holds the distinction of being featured on every season of Stuart's long-running show. "Marty Stuart is like family," Armistead says, adding that Stuart believes in what they are doing. "He's done so much for us."
Doors for the gig will open at 7.00pm, and the show starts at 8pm prompt.
Tickets for this great gig are on sale now, and are available on www.clonmelworldmusic.com, in Marians Bookshop Clonmel, or from Gerry Lawless on 086 3389619
Reviews:
"That's the greatest thing I've ever heard" – Billy Bob Thornton
"You'll pay for the whole seat…..But you'll only need the edge!!!" – Toronto Courier Democratic Free Press
"A screwball comedy. The feel good hit of the summer! A madcap force!" – Gene Scallop, WNBC
"You'll pay for the whole seat…..But you'll only need the edge!!!" – Toronto Courier Democratic Free Press
Doors 7 pm.
Leroy Troy Trio onstage 8pm sharp
Address:
10 Raheen Rd
, Raheen,
Clonmel
,
Tipperary
,
Ireland