Event Phone: 0863389619
Foghorn Stringband (USA)
Raheen House Hotel Clonmel
Tuesday 09th May 2023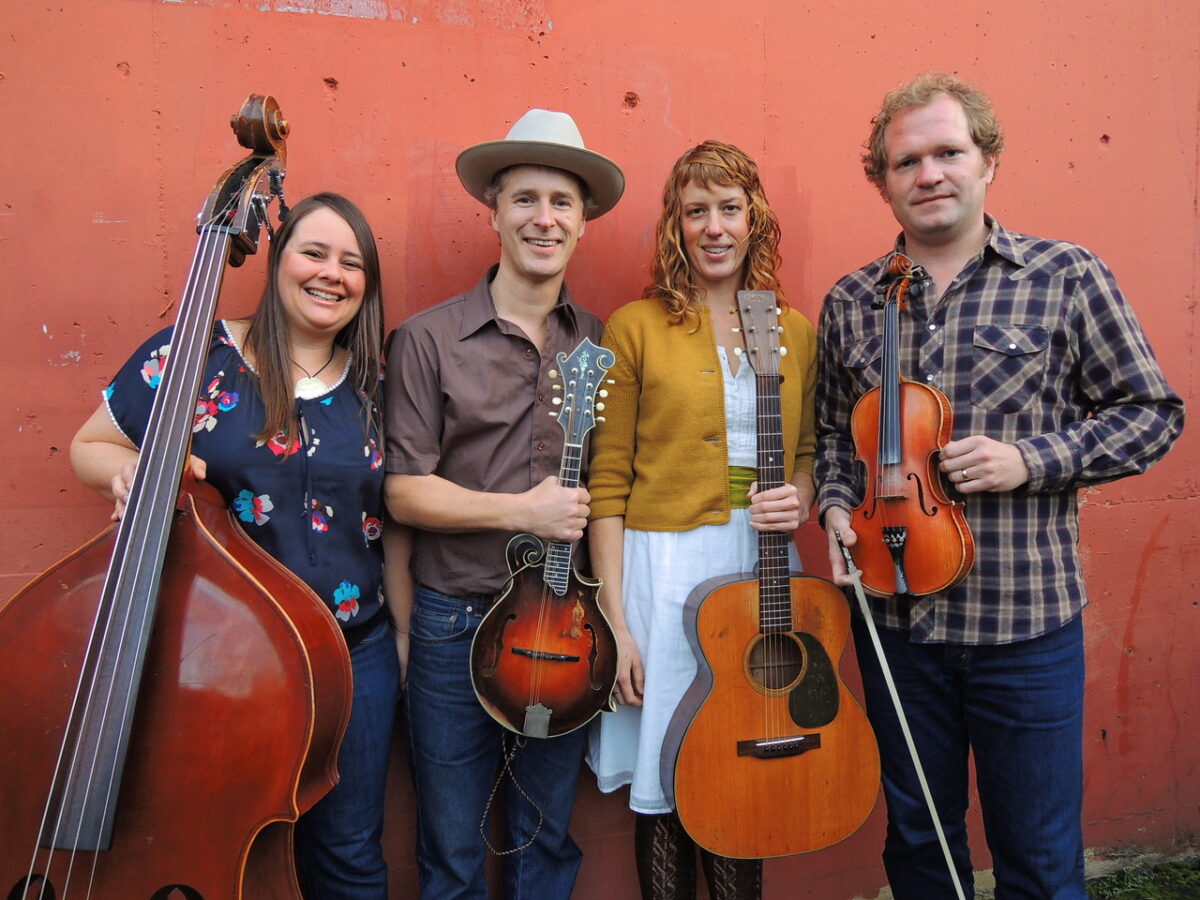 Caleb Clauder (vocals,mandolin,fiddle)

Reeb Wilms (vocals, guitar)

Nadine Landry (vocals, Upright Bass)

Sammy Lind (Vocals, Fiddle, Banjo)

Clonmel World Music is delighted to welcome back The Foghorn Stringband to Raheen House Hotel, all the way from Portland Oregon USA.
The last time they played to a full house in Clonmel was in 2017, where we had a really fun night of fantastic music and songs.
Clonmel World Music is delighted to have been chosen as one of a small few Irish venues to welcome The Foghorns back to Ireland in 2023
The Foghorn Stringband is the present day gold standard for real-deal hard-hitting genuine old-time American string band music, with eight albums, thousands of shows, over 15 years of touring under their belts, and an entirely new generation of roots musicians following their lead.
American roots music is a diverse and never-ending well of inspiration, and Foghorn Stringband continually and obsessively draws from old-time, bluegrass, classic country, and Cajun music traditions in an ongoing quest to present a broad span of American historical music with an unparalleled youthful energy, joy, and virtuosity. The Foghorn Stringband is comprised four master performers and historians
Each member of Foghorn Stringband exemplifies the best of the roots music traditions from their respective native cultures. Caleb Klauder's wistful, keening vocals and rapid-fire mandolin picking are as influenced by Southern roots music as much as they are by his upbringing in the sea islands of coastal Washington State. Reeb Willms hails from the wind swept Eastern farmlands of Washington. Her musical family and rural upbringing are are on display with every note she sings and every heart she breaks. Nadine Landry's roots lie in the rural backroads of Acadian Québec, and her high lonesome vocals have delighted audiences the world over. Her earth-shaking bass playing is the rumbling backbone of the Foghorn sound. Minnesotan Stephen 'Sammy' Lind, simply put, is the old-time fiddler of his generation whose tone and voice are as old as the same hills that gave birth to this music. Together, these four have forged a sound like no other.
In performance, Foghorn Stringband gather around one microphone, balancing their music on the fly, and playing with an intense, fiery abandon. To the band, this music is as relevant today as it was at it's birth a century ago. They see themselves not only as cultural revivalists, but also as historians and fans of this music. Their performances and recordings are a joyful celebration of music from a bygone era that still holds the power to delight audiences worldwide. The band's repertoire has expanded greatly in the past 15 years. They are as comfortable playing music at a neighborhood square dance as they are stirring a festival audience to a frenzy. Old time dance tunes rub shoulders with Cajun waltzes, vintage honky tonk country, and classic bluegrass….and it's all rendered into a cohesive whole. Foghorn Stringband can often be found after a performance in a local pub or club continuing to play with equal energy and joy late into the night. They're obsessed, and that obsession rings true with every note they play and every song they sing. You'll see. There's Foghorn…and there's everybody else
"We can't recommend this band highly enough – Geet your tickets today and don't miss out !" – Gerry Lawless
"Portland's Foghorn String Band stands at the top of today's vibrant old-time music revival and a fine example of what an unending revival it is. Each album finds them deeper into the tradition, more familiar with the rich resources of roots music, and more focused, but still propelled by that undercurrent of punk energy." —Art Menius, WMMT
Tuesday


Foghorn Stringband onstage at 9pm




9th May 2023




9:00 pm - 11:00 pm
Address:
10 Raheen Rd
, Raheen,
Clonmel
,
Tipperary
,
Ireland